News & Stories 07 July 2016
"6 aus 49" - Germany's Most Popular Lottery
How to Bet on the German Lotto
Due to legislation coming into effect in 2019, we can no longer offer lottery betting and as such some content may no longer be relevant.
So Germany are through to the semi-finals of Euro2016 – hardly a surprise, right? And so tomorrow morning they'll be squaring off against hosts, France. It's difficult to know how the match will go. It could well be a tedious, goalless stalemate leading to penalties. Though many pundits are predicting a thrilling spectacle.
What Is the German Lotto?
The German Lotto is a six from 49 lotto first launched in 1955. As with the Irish Lotto it's drawn twice a week, on Wednesdays (2:25am AEST / 4:25am AEDT) and Saturdays (3:25am AEST / 5:25am AEDT). It has nine different prize divisions plus three bonus games, so there's plenty of chances to win. The German Lotto's record jackpot was €45.4 million, dating back to December 2007. A basic game costs $2, though, in order to maintain the exact same game experience, the extra games are enabled by default at Lottoland. (Just untick them if you'd rather not play them.)
How to Bet on the German Lotto
The official name of the lottery, translated literally as "six out of 49", pretty much explains how to play the game. Just pick six numbers, just as with the Irish Lotto, or click the Quicky +1 button for a random number selection. You can play up to twelve games at a time. (Tip: if you want an 'all-in' Quicky click on the +Rest button, which will pick numbers for all twelve games.)
At the bottom of the bet slip you'll notice the Ticket Number section. This emulates the actual ticket number you'd find on your ticket if you were to buy an official 6 aus 49 ticket in Germany. Each ticket has its own special, seven-digit serial number – but this number isn't just for official purposes, it also plays in integral part of the game itself!
See, the very last number of your serial number is also the Superzahl, or "Super Number". In essence it has the same function as the Bonus Ball in the Irish Lotto, except, of course, that, in typical German fashion, it's more compact and efficient.
So, whereas the Lotto you match six to hit the top prize, or match five plus the bonus to hit tier two, the German Lotto jackpot is awarded for matching all six numbers AND the bonus ball. So it's much harder to hit the jackpot, resulting in more rollovers and much bigger jackpots, not to mention an additional prize division.
Plus, with Lottoland, you'll have one advantage that German players don't have – the ability to pick your own Super Number from a range of 0-9, or, once again, opt for a Quicky by pressing the Quicky +1 button.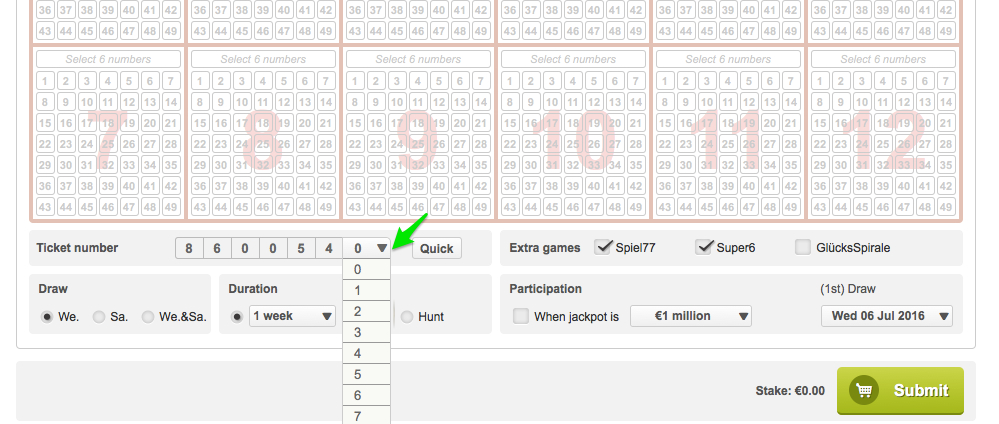 Germans who play the game in-store aren't able to pick their own Superball number - but you can!
German Lotto Extra Games
The German Lotto gives you three additional bonus games which are drawn straight after the main draw; Super6, Spiel77 (Game77) and GlücksSpirale (Lucky Spiral).
The first two draws are held twice a week, every Wednesday and Saturday, whereas the GlücksSpirale game is drawn only on Saturdays. So, how do these games work exactly?
Super6 – This game is drawn on both Wednesdays and Saturdays, after the main draw. Remember that all-important serial number? Well it's also integral to the bonus games. In the case of Super6 the trick is to match the six numbers drawn with the last six digits (from a range of 000000 – 999999) of the serial number.
If you hit the last number only, you get $3.70 back, and the prize divisions work backwards along the ticket number, the more you match the more you win. Super6 costs $2 extra, bringing the total price to $4.
Spiel77 – Game77 is pretty much the same thing, except this game encompasses all seven numbers of the serial number. This bonus game costs $4, so it's more expensive to bet, but you can also win much more. For example, if you match the last number you win $7.40, so double what you win with Super6. Match all seven, meanwhile, and you'll win millions!
GlücksSpirale – the "lucky spiral" game is only drawn on Saturdays. In essence it's actually just another variant of Spiel77, but with the chance to win even more. At $15 extra it's also the most expensive game, though you need only get one number right to double your money. Match the final number and you'll win $14.85, match six and you'll win €100,000 (approx. $148,000), but it's the top prize that's likely to really fire your imagination.
Match all seven numbers you'll win €7,500 (approx. $11,000) – every single month, for life! So if you've got a lucky feeling this Saturday then the lucky spiral game is well worth a whirl!
Bet on the German Lotto Online from Australia
With Lottoland it's easy to bet on the German Lotto (or 6 aus 49) online. Just pick your numbers, make your extra game selection and you're good to go. The German Lotto is a hugely popular game, in fact it's estimated that the amount of people playing in Germany is almost four times the population of Ireland!
Germany has the highest population in Europe and, as such, a sizable proportion of Lottoland players also come from there. The German Lotto is therefore not just one of our most popular games to bet on, it's also responsible for a considerable amount of wins. Indeed three of our top five wins of all time came courtesy of the German Lotto, including our biggest winner of all time, Matthias, who won €22 million back in May.
---